About Us
Caesar's is a Italian takeaway in Leeds. Why don't you try our Chicken Strips (2 Pieces) or Donner Pizza?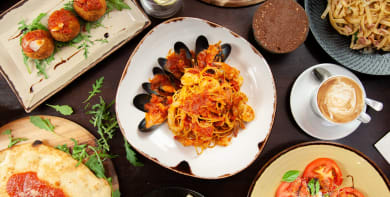 Reviews
102 reviews
Peter
"Great food"
01/08/2020
Karen
"Lovely friendly delivery man"
26/07/2020
Ria
"Nothing to complain about .... food was superb !"
30/06/2020
Maigan
"Calzone was a BEAST. So tasty. Chicken was so so but the calzone made up for it."
25/06/2020
Menu
Margherita Parmesan Half
Pizza cheese, cheddar cheese & Italian herbs
£6.50
Margherita Parmesan Full
Pizza cheese, cheddar cheese & Italian herbs
£9.40
Four Cheese Parmesan Half
Pizza cheese, mozzarella cheese, feta cheese, Gorgonzola cheese & Italian herbs
£6.90
Four Cheese Parmesan Full
Pizza cheese, mozzarella cheese, feta cheese, Gorgonzola cheese & Italian herbs
£9.50
Al Funghi Parmesan Half
Mushroom, pizza cheese & cheddar cheese
£7.10
Al Funghi Parmesan Full
Mushroom, pizza cheese & cheddar cheese
£9.70
Hot Shot Parmesan Half
Green pepper, green chilli, onion, crushed chilli, pizza cheese & cheddar cheese
£7.50
Hot Shot Parmesan Full
Green pepper, green chilli, onion, crushed chilli, pizza cheese & cheddar cheese
£9.90
Bolognese Parmesan Half
Bolognese sauce, onion, mince meat, pizza cheese & cheddar cheese
£7.50
Bolognese Parmesan Full
Bolognese sauce, onion, mince meat, pizza cheese & cheddar cheese
£9.90
Hawaiian Parmesan Half
Ham, pineapple, pizza cheese & cheddar cheese
£7.10
Hawaiian Parmesan Full
Ham, pineapple, pizza cheese & cheddar cheese
£9.90
Pepperoni Parmesan Half
Pepperoni, green peppers, pizza cheese & cheddar cheese
£6.90
Pepperoni Parmesan Full
Pepperoni, green peppers, pizza cheese & cheddar cheese
£9.90
Chicken Parmesan Half
Chicken, chicken tikka, onion, mushroom, pizza cheese & cheddar cheese
£7.50
Chicken Parmesan Full
Chicken, chicken tikka, onion, mushroom, pizza cheese & cheddar cheese
£9.90
House Special Parmesan Half
Donner meat, chicken tikka, green peppers, green chilli, crushed chilli, sweetcorn, pizza cheese & cheddar cheese
£7.90
House Special Parmesan Full
Donner meat, chicken tikka, green peppers, green chilli, crushed chilli, sweetcorn, pizza cheese & cheddar cheese
£9.90
Meat Parmesan Half
Pepperoni, salami, donner meat, chicken & chicken tikka
£8.10
Meat Parmesan Full
Pepperoni, salami, donner meat, chicken & chicken tikka
£11.50
Traditional Calzone
Pepperoni, Salami, Mushrooms, Broccoli
£7.50
Vegetarian Calzone
Peppers, Onions, Mushrooms, Spinach, Broccoli
£7.50
Pollo Calzone
Chicken, Fresh Tomato, Mushrooms, Onion
£7.50
Donner Calzone
Donner Meat, Onion, Chilli Sauce
£7.50
Caesars Special Calzone
A Little Bit of Everything
£8.50
Chick Tikka Calzone
Chicken Tikka, Onion, Peppers, Green Chillies
£7.50
Meat Calzone
Donner Meat, Pepperoni, Salami, Chicken, Ham
£8.50
Family Bucket Meal
10 Pcs Chicken. 2x Chips & Bottle of Pepsi
£17.90
Strawberry Cheesecake
Fruity & delicious
Served with ice cream
£2.90
Ferrero Rocher Chocolate Fudge Cake
With hot custard
£3.20
Jam Roly Poly with Hot Custard
Classic English dessert, strawberry jam, sponge & hot custard
£3.50
Chicken Fillet Burger Regular
Chicken Fillet Burger Spicy
Chicken Strips (2 Pieces) Regular
Chicken Strips (2 Pieces) Spicy
Chicken Strips (4 Pieces) Regular
Chicken Strips (4 Pieces) Spicy
Margherita Pizza 11" Thin
Garlic Margherita Pizza 11" Thin
Pepperoni Feast Pizza 11" Thin
Pollo Funghi Pizza 11" Thin
Quattro Formaggi Pizza 11" Thin
Ham & Mushroom Pizza 11" Thin
Ham & Pineapple Pizza 11" Thin
Caesars Special Pizza 11" Thin
BBQ Chicken Pizza 11" Thin
Chicken Tikka Pizza 11" Thin
Barbecue Pizza - 11" Thin
Asian Style Pizza 11" Thin
Donner King Pizza 11" Thin
BBQ Mega Meaty Pizza 11" Thin
1st Half Pizza Margherita
1st Half Pizza Garlic Margherita
1st Half Pizza Quattro Formaggi
1st Half Pizza Veggie Hot & Spicy
1st Half Pizza Seekh Kebab
1st Half Pizza Ham & Mushroom
1st Half Pizza Pepperoni Feast
1st Half Pizza Pollo Funghi
1st Half Pizza BBQ Chicken
1st Half Pizza BBQ Mega Meaty
1st Half Pizza Spicy Beef
1st Half Pizza Meat Feast
1st Half Pizza Spicy Pollo
1st Half Pizza Quattro Stagioni
1st Half Pizza Chicken Tikka
1st Half Pizza Meat Machine
1st Half Pizza Chicken Supreme
1st Half Pizza Asian Style
1st Half Pizza Caesars Special Pizza
Margherita Pizza 14" Family
Garlic Margherita Pizza 14" Family
Quattro Formaggi Pizza 14" Family
Vegetalla Pizza 14" Family
Veggie Hot & Spicy Pizza - 14" Family
Seekh Kebab Pizza 14" Family
Hawaiian Pizza 14" Family
Ham & Mushroom Pizza 14" Family
Pepperoni Feast Pizza 14" Family
Pollo Funghi Pizza 14" Family
BBQ Chicken Pizza 14" Family
Bolognese Pizza 14" Family
BBQ Mega Meaty Pizza 14" Family
Spicy Beef Pizza 14" Family
Meat Feast Pizza 14" Family
Hot Shot Pizza 14" Family
Spicy Pollo Pizza 14" Family
Caribbean Pizza 14" Family
Quattro Stagioni Pizza 14" Family
Chicken Tikka Pizza 14" Family
Favourita Pizza 14" Family
Meat Machine Pizza 14" Family
Chicken Supreme Pizza 14" Family
Asian Style Pizza 14" Family
Caesars Special Pizza 14" Family
Veggie Hot Pizza - 11" Thin
Vegetarian Supreme Pizza 11" Thin
Seekh Kebab Pizza 11" Thin
Spicy Beef Pizza 11" Thin
Meat Feast Pizza 11" Thin
Spicy Pollo Pizza 11" Thin
Quattro Stagioni Pizza 11" Thin
Meat Machine Pizza 11" Thin
Chicken Supreme Pizza 11" Thin
Ham & Pineapple Pizza 14" Family
1st Half Pizza Vegetarian Supreme
1st Half Pizza Donner King
Vegetarian Supreme Pizza 14" Family
Donner King Pizza 14" Family
Plain Burger Quarter Pounder
No salad
£3.90
Plain Burger Half Pounder
No salad
£4.50
Cheeseburger Quarter Pounder
Melted Cheese Slice
£4.50
Cheeseburger Half Pounder
Melted Cheese Slice
£5.50
American Burger Quarter Pounder
Fried Onions
£4.50
American Burger Half Pounder
Fried Onions
£5.50
Supreme Burger Quarter Pounder
Melted Cheese Slice, Fried Onions
£4.50
Supreme Burger Half Pounder
Melted Cheese Slice, Fried Onions
£5.50
Relish Burger Quarter Pounder
Melted Cheese Slice, Relish Sauce
£4.50
Relish Burger Half Pounder
Melted Cheese Slice, Relish Sauce
£5.50
Garlic Burger Quarter Pounder
Melted Cheese Slice, Garlic Butter
£4.50
Garlic Burger Half Pounder
Melted Cheese Slice, Garlic Butter
£5.50
Chilli Burger Quarter Pounder
Melted Cheese Slice, Hot Chilli Sauce
£4.50
Chilli Burger Half Pounder
Melted Cheese Slice, Hot Chilli Sauce
£5.50
Bolognese Burger Quarter Pounder
Melted Cheese Slice, Bolognese Sauce
£4.50
Bolognese Burger Half Pounder
Melted Cheese Slice, Bolognese Sauce
£5.50
Hawaiian Burger Quarter Pounder
Melted Cheese Slice, Pineapple
£4.50
Hawaiian Burger Half Pounder
Melted Cheese Slice, Pineapple
£5.50
Donner Burger Quarter Pounder
Melted Cheese Slice, Donner Meat, Chilli Sauce
£4.50
Donner Burger Half Pounder
Melted Cheese Slice, Donner Meat, Chilli Sauce
£5.50
Special Burger Quarter Pounder
Melted Cheese Slice, Thousand Island Sauce
£4.50
Special Burger Half Pounder
Melted Cheese Slice, Thousand Island Sauce
£5.50
Chicken Burger Quarter Pounder
Mayonnaise Sauce
£4.50
Chicken Burger Half Pounder
Mayonnaise Sauce
£5.50
Chicken Cheeseburger Quarter Pounder
Cheese Slice, Mayonnaise Sauce
£4.50
Chicken Cheeseburger Half Pounder
Cheese Slice, Mayonnaise Sauce
£5.50
Chicken Fillet Burger Quarter Pounder
Cheese Slice, Mayonnaise Sauce
£4.50
Chicken Fillet Burger Half Pounder
Cheese Slice, Mayonnaise Sauce
£5.50
Piri Piri Chicken Fillet Burger Quarter Pounder
Cheese Slice, Piri Piri Sauce
£4.50
Piri Piri Chicken Fillet Burger Half Pounder
Cheese Slice, Piri Piri Sauce
£5.50
Broccoli Pan
Broccoli with Onions in the Pan with
Tomato Sauce, Baked with Cheese
£5.90
Mushroom Fusilli Pan
Fresh Mushrooms, Fusilli with Onion & Spices in the
Pan with Tomato & Cream Sauce, Baked with Cheese
£6.30
Mushroom Pan
Fresh Mushrooms with Onions & Spices in the Pan
with Tomato & Cream Sauce, Baked with Cheese
£6.10
Mixed Vegetables Pan
Colourful mix of Carrots, Broccoli & Cauliflower
in cream sauce, Baked with Cheese
£6.30
Cannelloni (spinach)
Filled with Spinach & Mozzarella stuffed with
Tomato & Cream Sauce, Baked with Cheese
£6.50
Lasagne
Juicy stuffing of Minced Beef, Ham,
Bechamel Sauce, Baked with Cheese
£6.50
Mixed Pasta
Three Different kinds of Pasta with Bechamel &
Minced Beef Sauce Ham, Baked with Cheese
£6.90
Vegetarian Pasta
Three different sorts of Pasta with Broccoli,
Spinach, Paprika in Tomato & cream Sauce,
Baked with Cheese
£6.90
Cannelloni (mince Beef)
Filled with Minced Beef & Mozzarella with
Bechamel sauce, Baked with Cheese
£6.90
Shake Milka White Chocolate
£3.90
Ben & Jerry's Ice Cream (500ml) Chocolate Fudge Brownie
£5.00
Ben & Jerry's Ice Cream (500ml) Cookie Dough
£5.00
Ben & Jerry's Ice Cream (500ml) Caramel Chew Chew
£5.00
Ben & Jerry's Ice Cream (500ml) Phish Food
£5.00
Fully Loaded
Spicy or regular chicken fillet burger,
2 x spicy or regular chicken strips,
spicy or regular popcorn chicken, fries,
garlic sauce & can of Pepsi
£8.10
Boneless Box
4 X spicy or regular
Chicken strips, spicy or regular
popcorn chicken, fries,
garlic sauce & Can of Pepsi
£7.90
King Kebab
Donner meat, meat tikka,
Chicken tikka, Seekh kebab with
fries, fresh salad &
chilli sauce on nan bread
£8.90
King Burger
Chicken breast fillet & Beef burger
in a bun with fresh salad,
cheddar cheese, fries & donner meat
£8.50
Donner Meat Tray
(No Pitta & Salad)
£3.90
Donner Kebab in Pitta (Large)
£4.80
Donner Meat & Fries
(No Pitta & Salad)
£4.90
Chicken Tikka Kebab in Pitta
£5.90
Mixed Kebab in Pitta
Donner Meat & Chicken Tikka
£6.00
Special Kebab in Pitta
Donner Meat, Chicken Tikka, Meat Tikka
£6.50
Chicken Tikka Kebab on Naan
£6.50
Mixed Kebab on Naan
Donner Meat & Chicken Tikka
£6.50
Special Kebab on Naan
Donner Meat, Chicken Tikka, Meat Tikka
£7.10
Margherita Pizza 09" Small
Cheese & pizza sauce
£5.90
Margherita Pizza 11" Normal
Cheese & pizza sauce
£7.50
Margherita Pizza 11" Deep
Cheese & pizza sauce
£8.50
Margherita Pizza 14" Family
Cheese & pizza sauce
£10.90
Garlic Margherita Pizza 09" Small
Garlic
£6.10
Garlic Margherita Pizza 11" Normal
Garlic
£7.90
Garlic Margherita Pizza 11" Deep
Garlic
£8.90
Garlic Margherita Pizza 14" Family
Garlic
£11.90
Quattro Formaggi Pizza 09" Small
A combination of four cheeses
£6.10
Quattro Formaggi Pizza 11" Normal
A combination of four cheeses
£7.90
Quattro Formaggi Pizza 11" Deep
A combination of four cheeses
£8.90
Quattro Formaggi Pizza 14" Family
A combination of four cheeses
£11.90
Funghi Pizza 09" Small
Mushroom & cheese
£6.10
Funghi Pizza 11" Normal
Mushroom & cheese
£7.90
Funghi Pizza 11" Deep
Mushroom & cheese
£8.90
Funghi Pizza 14" Family
Mushroom & cheese
£11.90
Vegetalla Pizza 09" Small
Green peppers, mushroom, onion, fresh tomatoes & sweetcorn
£6.10
Vegetalla Pizza 11" Normal
Green peppers, mushroom, onion, fresh tomatoes & sweetcorn
£7.90
Vegetalla Pizza 11" Deep
Green peppers, mushroom, onion, fresh tomatoes & sweetcorn
£8.90
Vegetalla Pizza 14" Family
Green peppers, mushroom, onion, fresh tomatoes & sweetcorn
£11.90
Veggie Hot & Spicy Pizza 09" Small
Green peppers, onion, jalapenos, green chillies & crushed chilli
£6.10
Veggie Hot & Spicy Pizza 11" Normal
Green peppers, onion, jalapenos, green chillies & crushed chilli
£7.90
Veggie Hot & Spicy Pizza 11" Deep
Green peppers, onion, jalapenos, green chillies & crushed chilli
£8.90
Veggie Hot & Spicy Pizza 14" Family
Green peppers, onion, jalapenos, green chillies & crushed chilli
£11.90
Vegetarian Supreme Pizza 09" Small
Green peppers, onion, broccoli, spinach & green chillies
£6.10
Vegetarian Supreme Pizza 11" Normal
Green peppers, onion, broccoli, spinach & green chillies
£7.90
Vegetarian Supreme Pizza 11" Deep
Green peppers, onion, broccoli, spinach & green chillies
£8.90
Vegetarian Supreme Pizza 14" Family
Green peppers, onion, broccoli, spinach & green chillies
£11.90
Seekh Kebab Pizza 09" Small
Seekh kebab meat
£6.20
Seekh Kebab Pizza 11" Normal
Seekh kebab meat
£8.10
Seekh Kebab Pizza 11" Deep
Seekh kebab meat
£9.10
Seekh Kebab Pizza 14" Family
Seekh kebab meat
£12.50
Bacon Pizza 09" Small
Bacon
£6.20
Bacon Pizza 11" Normal
Bacon
£8.10
Bacon Pizza 11" Deep
Bacon
£9.10
Bacon Pizza 14" Family
Bacon
£12.50
Hawaiian Pizza 09" Small
Ham & pineapple
£6.20
Hawaiian Pizza 11" Normal
Ham & pineapple
£8.10
Hawaiian Pizza 11" Deep
Ham & pineapple
£9.10
Hawaiian Pizza 14" Family
Ham & pineapple
£12.50
Ham & Mushroom Pizza 09" Small
Ham & Mushroom
£6.20
Ham & Mushroom Pizza 11" Normal
Ham & Mushroom
£8.10
Ham & Mushroom Pizza 11" Deep
Ham & Mushroom
£9.10
Ham & Mushroom Pizza 14" Family
Ham & Mushroom
£12.50
Tuna Pizza 09" Small
Tuna, onions & cheese
£6.20
Tuna Pizza 11" Normal
Tuna, onions & cheese
£8.10
Tuna Pizza 11" Deep
Tuna, onions & cheese
£9.10
Tuna Pizza 14" Family
Tuna, onions & cheese
£12.50
Pepperoni Feast Pizza 09" Small
Pepperoni
£6.20
Pepperoni Feast Pizza 11" Normal
Pepperoni
£8.10
Pepperoni Feast Pizza 11" Deep
Pepperoni
£9.10
Pepperoni Feast Pizza 14" Family
Pepperoni
£12.50
Pollo Pizza 09" Small
Chicken & fresh tomatoes
£6.20
Pollo Pizza 11" Normal
Chicken & fresh tomatoes
£8.10
Pollo Pizza 11" Deep
Chicken & fresh tomatoes
£9.10
Pollo Pizza 14" Family
Chicken & fresh tomatoes
£12.50
Pollo Funghi Pizza 09" Small
Chicken & mushroom
£6.20
Pollo Funghi Pizza 11" Normal
Chicken & mushroom
£8.10
Pollo Funghi Pizza 11" Deep
Chicken & mushroom
£9.10
Pollo Funghi Pizza 14" Family
Chicken & mushroom
£12.50
BBQ Chicken Pizza 09" Small
BBQ sauce & chicken
£6.20
BBQ Chicken Pizza 11" Normal
BBQ sauce & chicken
£8.10
BBQ Chicken Pizza 11" Deep
BBQ sauce & chicken
£9.10
BBQ Chicken Pizza 14" Family
BBQ sauce & chicken
£12.50
Salami Pizza 09" Small
Salami & green peppers
£6.20
Salami Pizza 11" Normal
Salami & green peppers
£8.10
Salami Pizza 11" Deep
Salami & green peppers
£9.10
Salami Pizza 14" Family
Salami & green peppers
£12.50
BBQ Pizza 09" Small
BBQ sauce, chicken & sweetcorn
£6.20
BBQ Pizza 11" Normal
BBQ sauce, chicken & sweetcorn
£8.10
BBQ Pizza 11" Deep
BBQ sauce, chicken & sweetcorn
£9.10
BBQ Pizza 14" Family
BBQ sauce, chicken & sweetcorn
£12.50
Bolognese Pizza 09" Small
Bolognese sauce & onions
£6.20
Bolognese Pizza 11" Normal
Bolognese sauce & onions
£8.10
Bolognese Pizza 11" Deep
Bolognese sauce & onions
£9.10
Bolognese Pizza 14" Family
Bolognese sauce & onions
£11.90
Donner Pizza 09" Small
Donner meat
£6.20
Donner Pizza 11" Normal
Donner meat
£8.10
Donner Pizza 11" Deep
Donner meat
£9.10
Donner Pizza 14" Family
Donner meat
£12.50
Donner King Pizza 09" Small
Donner meat, chicken tikka & onions
£6.90
Donner King Pizza 11" Normal
Donner meat, chicken tikka & onions
£8.50
Donner King Pizza 11" Deep
Donner meat, chicken tikka & onions
£9.50
Donner King Pizza 14" Family
Donner meat, chicken tikka & onions
£12.90
BBQ Mega Meaty Pizza 09" Small
BBQ sauce, pepperoni, bacon & minced beef
£6.90
BBQ Mega Meaty Pizza 11" Normal
BBQ sauce, pepperoni, bacon & minced beef
£8.50
BBQ Mega Meaty Pizza 11" Deep
BBQ sauce, pepperoni, bacon & minced beef
£9.50
BBQ Mega Meaty Pizza 14" Family
BBQ sauce, pepperoni, bacon & minced beef
£12.90
Spicy Beef Pizza 09" Small
Minced beef, onion & jalapenos
£6.90
Spicy Beef Pizza 11" Normal
Minced beef, onion & jalapenos
£8.50
Spicy Beef Pizza 11" Deep
Minced beef, onion & jalapenos
£9.50
Spicy Beef Pizza 14" Family
Minced beef, onion & jalapenos
£12.90
Seafood Pizza 09" Small
Tuna, prawns & anchovies
£6.90
Seafood Pizza 11" Normal
Tuna, prawns & anchovies
£8.50
Seafood Pizza 11" Deep
Tuna, prawns & anchovies
£9.50
Seafood Pizza 14" Family
Tuna, prawns & anchovies
£12.90
Meat Feast Pizza 09" Small
Pepperoni, ham, chicken & minced beef
£6.90
Meat Feast Pizza 11" Normal
Pepperoni, ham, chicken & minced beef
£8.50
Meat Feast Pizza 11" Deep
Pepperoni, ham, chicken & minced beef
£9.50
Meat Feast Pizza 14" Family
Pepperoni, ham, chicken & minced beef
£12.90
Hot Shot Pizza 09" Small
Pepperoni, green peppers, onions & green chillies
£6.90
Hot Shot Pizza 11" Normal
Pepperoni, green peppers, onions & green chillies
£8.50
Hot Shot Pizza 11" Deep
Pepperoni, green peppers, onions & green chillies
£9.50
Hot Shot Pizza 14" Family
Pepperoni, green peppers, onions & green chillies
£12.90
Spicy Pollo Pizza 09" Small
Chicken, green peppers, tomatoes & green chillies
£6.90
Spicy Pollo Pizza 11" Normal
Chicken, green peppers, tomatoes & green chillies
£8.50
Spicy Pollo Pizza 11" Deep
Chicken, green peppers, tomatoes & green chillies
£9.50
Spicy Pollo Pizza 14" Family
Chicken, green peppers, tomatoes & green chillies
£12.90
Caribbean Pizza 09" Small
Chicken, pineapple & sweetcorn
£6.90
Caribbean Pizza 11" Normal
Chicken, pineapple & sweetcorn
£8.50
Caribbean Pizza 11" Deep
Chicken, pineapple & sweetcorn
£9.50
Caribbean Pizza 14" Family
Chicken, pineapple & sweetcorn
£12.90
Quattro Stagioni Pizza 09" Small
Salami, ham, mushroom, green peppers & onion
£6.90
Quattro Stagioni Pizza 11" Normal
Salami, ham, mushroom, green peppers & onion
£8.50
Quattro Stagioni Pizza 11" Deep
Salami, ham, mushroom, green peppers & onion
£9.50
Quattro Stagioni Pizza 14" Family
Salami, ham, mushroom, green peppers & onion
£12.90
Chicken Tikka Pizza 09" Small
Chicken tikka, onion, green peppers & green chillies
£6.90
Chicken Tikka Pizza 11" Normal
Chicken tikka, onion, green peppers & green chillies
£8.50
Chicken Tikka Pizza 11" Deep
Chicken tikka, onion, green peppers & green chillies
£9.50
Chicken Tikka Pizza 14" Family
Chicken tikka, onion, green peppers & green chillies
£12.90
Favourita Pizza 09" Small
Pepperoni, salami, ham, chicken & minced beef
£6.90
Favourita Pizza 11" Normal
Pepperoni, salami, ham, chicken & minced beef
£8.50
Favourita Pizza 11" Deep
Pepperoni, salami, ham, chicken & minced beef
£9.50
Favourita Pizza 14" Family
Pepperoni, salami, ham, chicken & minced beef
£12.90
Meat Machine Pizza 09" Small
Pepperoni, ham, chicken, minced beef & donner meat
£6.90
Meat Machine Pizza 11" Normal
Pepperoni, ham, chicken, minced beef & donner meat
£8.50
Meat Machine Pizza 11" Deep
Pepperoni, ham, chicken, minced beef & donner meat
£9.50
Meat Machine Pizza 14" Family
Pepperoni, ham, chicken, minced beef & donner meat
£12.90
Chicken Supreme Pizza 09" Small
Chicken, mushroom, green peppers, onion & jalapenos
£6.90
Chicken Supreme Pizza 11" Normal
Chicken, mushroom, green peppers, onion & jalapenos
£8.50
Chicken Supreme Pizza 11" Deep
Chicken, mushroom, green peppers, onion & jalapenos
£9.50
Chicken Supreme Pizza 14" Family
Chicken, mushroom, green peppers, onion & jalapenos
£12.90
Asian Style Pizza 09" Small
£6.90
Asian Style Pizza 11" Normal
£8.50
Asian Style Pizza 11" Deep
£9.50
Asian Style Pizza 14" Family
£12.90
Caesars Special Pizza 09" Small
A little bit of everything
£6.90
Caesars Special Pizza 11" Normal
A little bit of everything
£8.50
Caesars Special Pizza 11" Deep
A little bit of everything
£9.50
Caesars Special Pizza 14" Family
A little bit of everything
£12.90
Create Your Own Pizza 09" Small
Any three topping
£6.90
Create Your Own Pizza 11" Normal
Any three topping
£7.90
Create Your Own Pizza 11" Deep
Any three topping
£8.90
Create Your Own Pizza 14" Family
Any three topping
£12.90
Fully Loaded Box
Spicy OR regular chicken fillet burger
2 x Spicy OR regular chicken strips
7 x Regular popcorn chicken
Chips
Garlic sauce
Can of Pepsi
£7.90
Boneless Box
4 x Spicy OR regular chicken strips
7 x Regular popcorn chicken
Chips
Garlic sauce
Can of Pepsi
£7.50
King Kebab
Donner meat, meat tikka & chicken tikka, seekh kebab with chips, fresh salad & chilli sauce on naan bread
£8.50
King Burger
Chicken breast fillet & beef burger in a bun with fresh salad, cheddar cheese, chips & donner meat
£8.00
Green Tagliatelle (Ribbon)
£3.35
Tortellini (Filled Spinach)
£3.35
Tortellini (Filled with Cheese)
£3.75
Vegetable Samosa
2Pcs with yoghurt sauce
£2.70
Meat Samosa
2Pcs with yoghurt sauce
£2.80
Seekh Kebab
2Pcs with yoghurt sauce
£3.50
Shami Kebab
2Pcs with yoghurt sauce
£3.50
Prawn Cocktail
Mix salad, & prawn cocktail dressing
£3.90
Garlic Mushrooms
Mushroom topped with garlic butter
£4.10
Chicken Tikka Starter
with yoghurt sauce
£4.50
Meat Tikka Starter
With yoghurt sauce
£4.90
Chicken Strips & Chips (4Pcs)
£4.10
Spicy Chicken Strips & Chips (4Pcs)
£4.10
Popcorn Chicken & Chips (10Pcs)
£4.10
Chicken Nuggets & Chips (7Pcs)
£4.90
Mixed Grill Starter
Chicken tikka, meat tikka, seekh kebab, shami kebab & yoghurt sauce
£6.50
Cans 330ml Fanta (Orange)
£1.00
Cans 330ml Tango (Orange)
£1.00
Cans 330ml Simply Fruit Apple & Blackcurrant
£1.00
Cans 330ml Simply Fruit Orange
£1.00
Strawberry Cheesecake
with Ice Cream
£2.90
Ferrero Rocher Chocolate Fudge Cake
with Hot Custard
£3.50
Jam Roly Poly
with Hot Custard
£4.50
Ben & Jerry's Ice Cream 500ml Chocolate Fudge Brownie
£5.50
Ben & Jerry's Ice Cream 500ml Cookie Dough
£5.50
Ben & Jerry's Ice Cream 500ml Caramel Chew Chew
£5.50
Ben & Jerry's Ice Cream 500ml Phish Food
£5.50
Garlic Bread
Garlic bread on a pizza base
£3.50
Garlic Bread Special
Pizza sauce & garlic butter on a pizza base
£4.90
Garlic Bread with Cheese
Garlic & pizza with cheese on a pizza base
£4.90
Meal Deal 1
Any 11" Thin Pizza, Chips & Can of Pepsi
£8.90
Meal Deal 2
Any 11" Deep Pan Pizza,
Chips & Can of Pepsi
£9.90
Meal Deal 3
Any 2x 11" Thin Pizza,
2x Chips & 2x Can of Pepsi
£16.90
Meal Deal 4
Any 3x 11" Thin Pizza,
3x Chips & 3x Can of Pepsi
£22.90
Meal Deal 5
Any 14" Pizza, Garlic Bread, Chips
& Bottle of Pepsi
£16.90
Meal Deal 6
2x Large Donner Kebab with
Fresh Salad & Chilli Sauce,
2x Chips & 2x Can of Pepsi
£12.90
Meal Deal 7
3x Large Donner Kebab with
Fresh Salad & Chilli Sauce,
3x Chips & 3x Can of Pepsi
£16.90
Meal Deal 8
Any 1/4lb Burger with
Chips & Can of Pepsi
£5.90
Meal Deal 9
Any 2x 1/4lb Burger with
Chips & 2x Can of Pepsi
£11.50
Meal Deal 10
Any 11" Thin Pizza, Any 1/4lb Burger
with Chips & 2x Cans of Pepsi
£12.90
Super Size Kebab
Donner Meat, Chicken Tikka,
Meat Tikka, Shami Kebabs, Chips
with Salad & Chilli Sauce on Naan
£8.40
Chicken Tikka Wrap Solo
Chicken Tikka, Salad & Mayonnaise
£3.90
Chicken Tikka Wrap Meal
Chicken Tikka, Salad & Mayonnaise
£4.90
Chicken Wrap Solo
Chicken Strips, Salad & Mayonnaise
£3.90
Chicken Wrap Meal
Chicken Strips, Salad & Mayonnaise
£4.90
Donner Wrap Solo
Donner Meat, Salad & Mayonnaise
£3.90
Donner Wrap Meal
Donner Meat, Salad & Mayonnaise
£4.90
Tuna Wrap Solo
Tuna, Sweetcorn, Salad & Mayonnaise
£3.90
Tuna Wrap Meal
Tuna, Sweetcorn, Salad & Mayonnaise
£4.90
Mixed Wrap - Solo
Donner Meat, Chicken Tikka, Salad & Mayonnaise
£4.50
Mixed Wrap - Meal
Donner Meat, Chicken Tikka, Salad & Mayonnaise
£5.20
Seekh Kebab Wrap Solo
Seekh Kebab, Salad & Mayonnaise
£4.20
Seekh Kebab Wrap Meal
Seekh Kebab, Salad & Mayonnaise
£5.20
BBQ Cheddar Ringer Burger
Cheese Slice, Onion Rings, BBQ Sauce
£5.90
Bacon & Cheeseburger
Cheese Slice, Turkey Rashers, Onion Rings, BBQ Sauce
£5.90
Jalapeno Chilli Burger
Cheese Slice, Jalapenos, Mayonnaise Sauce
£5.90
Chilli Lava Burger
Cheese Slice, Hot Chilli Sauce
£5.90
Spicy Fillet Bistro
Spicy Chicken Fillet, BBQ Sauce, Cheese Slice,
Turkey Rashers, Onion Rings
£5.90
Supreme Bistro Burger
Chicken Fillet, Hash Brown, Cheese Slice, Mayo Sauce
£5.90
Contact Us
Find Us
144 Stanningley Road, Leeds, LS122RF
We deliver to
LS12, LS13, LS28, LS3, LS4, LS5, LS6